Midnight, Texas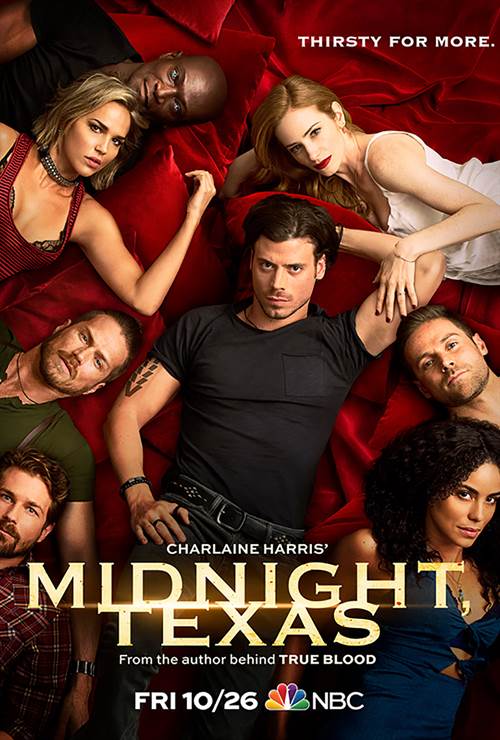 | | |
| --- | --- |
| Created By: | |
| Executive Producers: | Charlaine Harris |
| Writers: | |
| Cast: | |
| Air Date: | Coming Soon |
| Studio: | Universal Television |
| Genre: | Television |
| FSK: | |
Synopsis
Welcome to a place where being normal is really quite strange. From Niels Arden Oplev, the visionary director of "Mr. Robot," and based on the hit book series from author Charlaine Harris ("True Blood"), comes a journey into a remote Texas town where no one is who they seem. From vampires and witches to psychics and hit men, Midnight is a mysterious safe haven for those who are different. As the town members fight off outside pressures from rowdy biker gangs, ever-suspicious cops and their own dangerous pasts, they band together and form a strong and unlikely family.

Purchase DVD/Blu-ray/4K UHD physical copy of Midnight, Texas today at Amazon.com
Download Midnight, Texas in Digital HD/4K from the iTunes store.
Midnight, Texas images are © Universal Television. All Rights Reserved.
Midnight, Texas Renewed for Second Season
2/15/2018 10:05 AM EST
NBC has decided to renew "Midnight Texas" for a second season.Charlaine Harris, author of the books the series is based on said, "I am stoked at the prospect of a second season of 'Midnight, Texas'. I can't wait to revisit my favorite town to discover what its inhabitants have been up to the past few months. Now the viewers, who've been asking me questions daily, will have their reward."The show i...
More>>
Midnight, Texas: Fiji's secrets and Big Choice
9/18/2017 1:14 PM EST
Helloooooooo Midnighters!!!!!!!   Before I start this week's preview let me begin by apologizing for not posting a preview of this past week's episode but Hurricane Irma knocked the power out and by the time I got it back it was Wednesday and you had already seen episode eight. But now that life in Florida is getting back to normal I can go back to one of my favorite indulgences… Midnight, Texas. ...
More>>
Midnight, Texas: Love Concurs All?
9/4/2017 2:19 PM EST
Helloooooooo Midnighters!!!!!!!  Didn't you just love everyone's reactions to Joe's secret as he flew away? Classic. When he saved Creek with the power that emanated from his body it was pretty cool.  And what do we think of poor Creek?  We were sure her father was the evil one but it turned out to be her little brother Connor and Dad was just covering for him.  I feel so bad for her and her dad. ...
More>>
Midnight, Texas: Everybody Seems To Have Secrets
8/28/2017 11:25 AM EST
Helloooooooo Midnighters!!!!!!! I told all you Boji shippers out there that they might be over before they have even begun and now you know why. I like them together so I hope they resolve their issues soon and become one of my favorite couples on the show down the road. Do you think Fiji can move past Bobo's upbringing? It seems to me he rejected how he was brought up so I don't see why not. Do y...
More>>
Midnight, Texas: Hightower's Revenge
8/21/2017 11:16 AM EST
Helllloooooooo Midnighters!!!!!  How is everyone?  Excited for another new episode?  What did we all think of the succubus?  She was pretty beautiful but boy the teeth were killer!  And speaking of killer, Manfred seems pretty desperate as Hightower gets closer.  It seems he will do almost anything to get together the money to pay Hightower back.  Meanwhile did all the Fiji/Bobo shippers like the ...
More>>
Midnight, Texas: Beautiful but Dangerous
8/14/2017 11:57 AM EST
Helloooooooo Midnighters!!!!!!!  Did you like Lem's backstory?  Wasn't it nice watching everyone band together to defeat the vampires ready to destroy the town?  Do you want more…because it's coming.  The evil vampires this past week was just the tip of the proverbial iceberg and it looks like things will be heating up as the season movies along.Episode four offers us another new, ugly monster mak...
More>>
Midnight, Texas: The Vampire Lemuel
8/7/2017 2:36 PM EST
Helloooooooo Midnighters!!!!!!! Are you hooked yet?  Craving more from the folks of your new favorite town?  Well no worries, there is plenty more to come. Are you ready for round three because it's coming along with more evil? The coming weeks will introduce us to more of the characters living in Midnight along with some other "creatures" but this week we get to focus on your new favorite vampire...
More>>
Midnight, Texas: What is the Rev Hiding?
7/31/2017 9:23 AM EST
Helloooooooo Midnighters!!!!!!! So what did you think of episode one?  Did you fall in love with Manfred yet? Do you think Bobo Killed Aubrey in a fit of rage? Are you curious about Olivia and Lem?  What's the deal with the Rev? Isn't Fiji the sweetest…and did I mention that the cat talks (I'm pretty sure I did)?!?  Are you hooked yet?  No?  Well just wait for the next few episodes.
Speaking of, l...
More>>
Does Bestselling True Blood Author Charlaine Harris Have Another...
7/24/2017 1:57 AM EST
New York Times best selling author Charlaine Harris knows how to write an engaging story.  Her descriptive novels about vampires, werewolves and other supernatural creatures are entertaining page turners that keep readers coming back for more.  They also make for great television, as her Sookie Stackhouse Series became the basis for HBO's hit show, True Blood.  This week both Harris and NBC hope t...
More>>
Midnight, Texas Series Review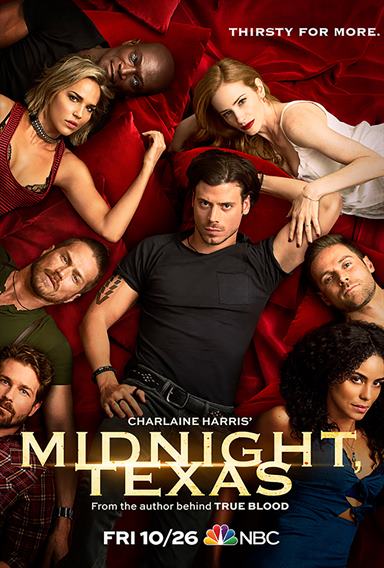 Helloooooooo Midnighters!!!!!!! Are you excited now that season two has started? If you watched last week you know it's off to a terrific start! Before we start discussing episode 2 how about a little recap?
I told you Manfred wasn't feeling well so and now you all know why. Demon possession can be a real bitch and apparently, it leaves a nasty aftertaste. Luckily Kai's supernatural healing ability saved Manfred from "demon cancer" (poor wording by the way). And just how did Kai do that? Well, that mystery hasn't been solved yet but I'm sure we will find out in time.
Anyway, besides our newest additions to Midnight we now know something is up with Fiji and Bobo (well, besides the obvious). It seems their happiness is pissing someone or something off, but more about that later. And who can forget Olivia and Lem? If you were her would you really want someone reading your every thought and feeling? Yes, it seems cool but I'm not really sure how cool it is.
Anyway, Let's move on to episode two, shall we? Manfred was right when he said last week that the Hotel is haunted and this week we get out first "visitors". Unfortunately, they aren't all that friendly and cause some mayhem. Luckily Manfred and Fiji are there to help restore order despite having their suspicions about Kai and Patience.
Speaking of Fiji, she is beginning to realize there is something wrong and that a strange force seems to be out to get Bobo... but what and more importantly why? And speaking of lovey-dovey couples, I was right about Olivia and Lem. She is already annoyed with their "blood Bond" and wants some space. Of course, Lem really knows how she feels when he accidentally messes up and she has to help clean up his mess.
This leads to another realization that the supernaturals in Midnight are going to be really interested in but I won't spoil that surprise. You will just have to watch and find out for your selves.
There were some noticeable absences this week too. Creek is gone and Manfred is feeling lonely though he still holds out hope for their happy reunion. The Rev is nowhere to be found this week either but I'm sure we will be seeing him in the near future. Joe is also less involved in episode two but that is only because he is grappling with awakened feelings that have laid dormant for hundreds of years. It will be interesting to see how Walker fits into all this.
So far Season two is off to a great start and I for one am looking forward to finding out what's going on in Midnight in the coming weeks.
Read More Midnight, Texas Reviews
For more reviews please visit our film/television review section.
NBC's new show Midnight, Texas jump-started its season this week and Flick Correspondent Allison...

With new residents heading to Midnight, Texas Fiji (Parisa Fitz-Henley), Lemuel (Peter Mensah) and O...

There are three new residents of Midnight, Texas coming in Season 2 and the cast and producers told...
SPONSORED LINKS