Doctor Zhivago (1966)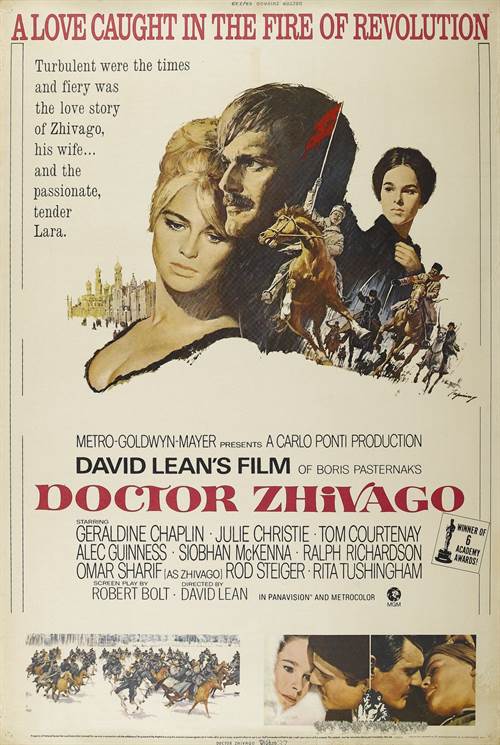 | | |
| --- | --- |
| Director: | |
| Writers: | |
| Cast: | |
| Released: | Tuesday, October 4, 1966 |
| Length: | 207 minutes |
| Studio: | MGM Studios |
| Genre: | Drama |
| FSK: | |
Doctor Zhivago Synopsis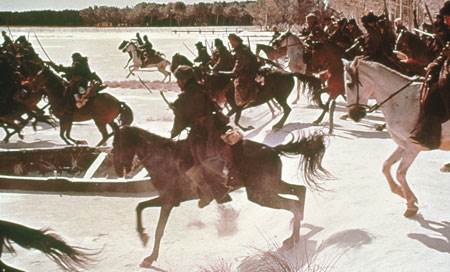 Lara inspires lechery in Komarovsky (her mother's lover who is a master at surviving whoever runs Russia) and can't compete with passion for the revolution of the man she marries, Pasha. Her true love is Zhivago who also loves his wife. Lara is the one who inspires poetry. The story is narrated by Zhivago's half brother Yevgraf, who has made his career in the Soviet Army. At the beginning of the film he is about to meet a young woman he believes may be the long lost daughter of Lara and Zhivago.

Purchase DVD/Blu-ray/4K UHD physical copy of Doctor Zhivago today at Amazon.com
Stream Doctor Zhivago in Digital HD/4K from the AppleTV store.
Doctor Zhivago images are © MGM Studios. All Rights Reserved.
Doctor Zhivago Review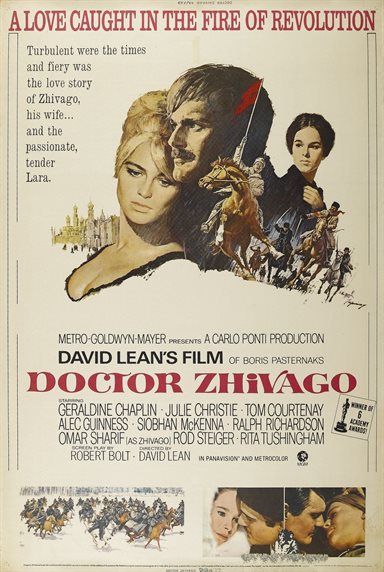 Warner Brothers has now fully jumped into digital video distribution using iTunes -- This time out, its Dr. Zhivago, the 1965 romance/war drama that now comes to your computer via the Internet. The movie itself is definitely a classic! It takes place just before and during the Russian Bolshevik revolution and involves a sprawling love story over the 197 minutes.
It is a classic title, and begins with a 5-minute musical overture against a static screen; while much too long for me (over 3 hours), it is "a good watch" if you are in the market for an epic romance set to a backdrop of the war. I would class it in the same category as The Sound of Music, which I think is both a better movie, and far more worth watching. Of course, The Sound of Music is an all time great, so it is no surprise that I find it better.
I would rate the digital experience a "medium". I received the movie-code through an email that came with a Redeemable Coupon button. I clicked it, and it launched iTunes. Unfortunately, I had just updated iTunes and needed to click to accept the terms of agreement. I say 'unfortunately' because the accept terms window was under my browser, so it took me a few minutes of nothing happening until I realized I needed to click over to iTunes and see what was going on. When I did, I got to the iTunes store and had to enter my password -- it remembered my username.
I then started downloading, but immediately got this error:
We could not complete your iTunes Store request.
The iTunes Store is temporarily unavailable. Please try again later.
I clicked okay, and immediately tried again; but the same error. I went away and came back 20 minutes later; the download had started automatically. The speed was somewhat slow though. It told me 3 hours, but took approximately 2.5 hours -- I have average-speed DSL.
The viewing portion is good. I have a very large monitor, and it is like almost all computer monitors -- very, very high resolution compared to a normal or even HD screen. For sound, I used my headset, and it doesn't get better than that.
The movie now resides in my iTunes database where I license it for a limited number of computers. I have some basic problems with DRM, but honestly, having done some checking and talked to other friends in the industry, iTunes is one of the better ones; and their severs are not likely to go away any time soon. Your best bet is you want to watch it on TV is to hook an apple MacBook up to the TV. According to the web, a Radio Shack, or similar store, will sell you a cable that does it nicely. You can do the same with your iPod, but note that the movie is 2.15 GB.
I want to compare this to the NetFlix video experience. I have an LG Blu-Ray player that comes with both wireless functionality and the capability to hook up to my NetFlix account. I can go to my PC, add a movie to my digital queue, and watch it at will at no additional charge; my monthly NetFlix bill isn't changed.
Now, the device I have is moderately expensive. I believe I paid $350.00 for it, but it plays natively on my TV; which is where my wife and I are most likely to watch it. It will also play on my computer if I wish to watch it there. The movie buffers and stream, and there is a wait time of possibly 2 minutes for just about anything, as opposed to an hour or more; and it doesn't take up any hard-drive space.
What does all this mean? It means that digital movies aren't yet fully mature. The iTunes method is a lot more like buying a movie; you can watch it as much as you want, and you only pay for it once. There is a time requirement to download it, but after that -- you have it -- within limits of the license, and a limited number of machines, etc. The NetFlix method, if you have the hardware (a game console will work as well, and you can get some sort of dedicated device), will play on your TV set; but you have to keep your NetFlix account current. It also starts faster.
Over all, the iTunes experience isn't a bad one, and the prices are very reasonable. The quality is as high as you could ask for. If you are set up to use the iTunes delivery system, such as you want to watch on your computer, or you are set up to play iPod or MacBook on your TV, or you have Apple TV, then this is a good way to go.
-- Marco Chacon
For more reviews please visit our film/television review section.
SPONSORED LINKS