9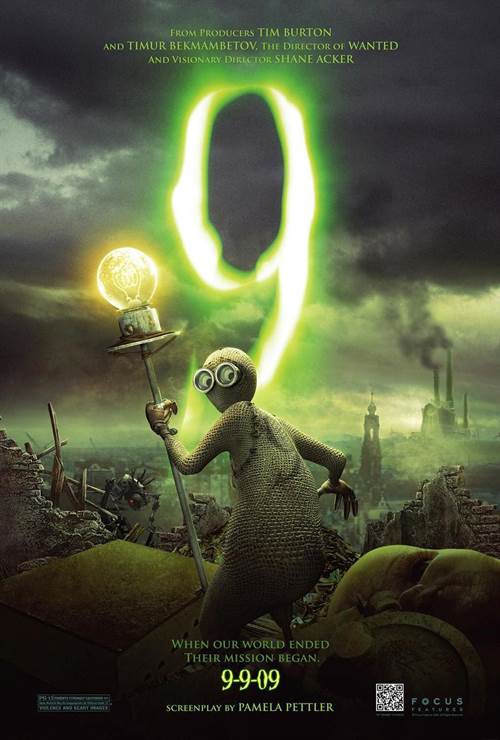 | | |
| --- | --- |
| Director: | |
| Writers: | |
| Cast: | |
| Released: | Coming Soon |
| Length: | 79 minutes |
| Studio: | Relativity Media |
| Genre: | Sci-Fi/Fantasy, Family |
| FSK: | |
9 Synopsis
A new era in animated storytelling begins on 9.9.09. Visionary filmmakers Tim Burton (The Corpse Bride, Charlie and The Chocolate Factory) and Timur Bekmambetov (Wanted, Nightwatch) join forces to produce wunderkind director Shane Acker's distinctively original and thrilling tale. 9 stars Elijah Wood, John C. Reilly, Jennifer Connelly, Martin Landau, Christopher Plummer and Crispin Glover and features the music of Danny Elfman. When 9 (The Lord of the Ring's Elijah Wood) first comes to life, he finds himself in a post-apocalyptic world. All humans are gone, and it is only by chance that he discovers a small community of others like him taking refuge from fearsome machines that roam the earth intent on their extinction. Despite being the neophyte of the group, 9 convinces the others that hiding will do them no good. They must take the offensive if they are to survive, and they must discover why the machines want to destroy them in the first place. As they'll soon come to learn, the very future of civilization may depend on them.

Purchase DVD/Blu-ray/4K UHD physical copy of 9 today at Amazon.com
Stream 9 in Digital HD/4K from the AppleTV store.
Listen to the 9 soundtrack on Apple Music.
9 images are © Relativity Media. All Rights Reserved.
9 Theatrical Review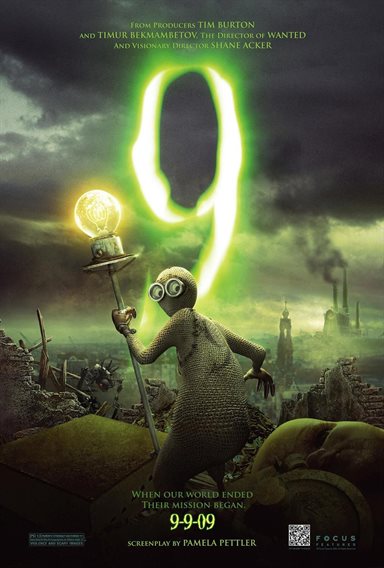 Some day we are going to run out of number-names for movies. We have recently seen
300
. I remember Ten. If you accept articles, the "The One" probably counts. If we let in dates, then Ridley Scott's 1492 might count (although they added 'Conquest of Paradise'). We all saw Seven. There was a movie named Thirteen.
After watching Nine, I suggest we might want to ditch the rest of the integers and just call it day.
I had heard Nine was by Tim Burton. That is because I didn't listen very closely: Nine was produced by Tim Burton, but we were supposed to think it was by Tim Burton, when in reality, it was Shane Acker. You ask who is Shane Acker? Well, let's put it this way: Nine was also produced by Timur Bekmambetov. If you would have seen his name in big letters would it have sold you a ticket?
I didn't think so.
Nine is the story of tiny little artificial guys called 'stitchpunks'. They exist in a post-apocalyptic wasteland where some type of war has killed everyone. Nine (voiced by the achingly vulnerable Elijah Wood) wakes up, knows nothing of this world, and must wander through it when he conveniently finds more of his kind (first number 2, then several more). He is also attacked by nightmarish automatons that hound the group and seem to come from a huge factory off in the distance.
The leader of the surviving stitchpunks is voiced by Christopher Plummer, who seems like he would be an antagonist for the film since he is somewhat nasty to 9. He doesn't want to save 2, and seems hidebound and imperious. However, it turns out that due to the breakneck pacing of the film, the true antagonist never gets any lines; it is a machine that makes other machines and is responsible for the destruction.
The movie looks gorgeous. It is the second animated film released by Focus Features (who also did Coraline), and it drips with texture (even though, it appears to me, 9 is all CGI instead of models). The voice acting is quite good, and it has a cast that adds charisma to its tiny, fragile, protagonists. It has a dark apocalyptic appearance and a good after-the-end-of-the-world vibe to it.
Unfortunately, the plot of the film is so thin it comes apart with even the tiniest expectations. For one thing way too much of the movie is made up of extended chase scenes against robot antagonists. For another, while we get back story, we get it in little globs of exposition rather than anything that feels organic to the plot. When we are learning about how things went bad, I discovered I didn't really care that much. When we learn what 9 can do to help things along, I found myself hoping that 9 was better able to figure out cryptic commands than I was -- since it didn't make much sense.
A few of the movie's visuals also work very much at odds with our expectations. An image of something precious to the characters being destroyed turns out to be a fake-out; the thing being destroyed isn't actually being destroyed ... even though that is what it was clearly meant to look like.
The movie's biggest failing, however, is this -- the entire second half of the film happens because 9 does something random and ill-advised. When he takes an action, it (a) immediately invalidates the good his previous work was set out to do, and (b) dooms a lot of his friends. In the very end of the film, it sort of makes excuses for him, sort of indicates that possibly it was the right thing to do; but by that time, I would have already given up on it. It told me things were okay, but it sure didn't sell me on it. When 9 takes an action that sets all the hardships in motion, but the movie was doing and making the hidebound, over-cautious, unpleasant character of 1 correct. Being adventurous, curious, or good-hearted in that world doesn't help you along, it just makes things worse.
I'm pretty sure this wasn't the message the movie meant to convey (especially because it does its best to paper it over in the end), but it is some clumsy plotting that gets us there; and all the action seems like the work of an amateur magician trying to misdirect us from the fundamental missed message of its plot.
The resulting work is too dark for kids and too muddled for grown ups (it earns its PG-13 rating, the third ever for an animated film). Nine is a short 79 minutes; but even at that length, I found myself wishing it would hurry it up.
Grade: D+
-- Marco Chacon
For more reviews please visit our film/television review section.
SPONSORED LINKS