31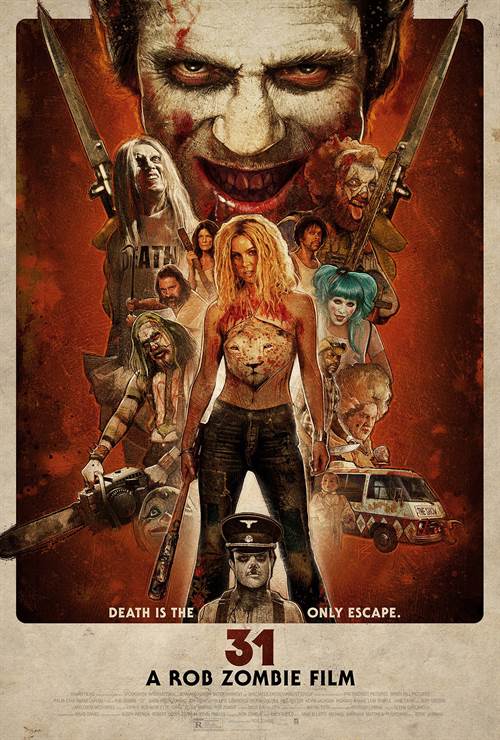 | | |
| --- | --- |
| Director: | |
| Writers: | |
| Cast: | |
| Released: | Coming Soon |
| Length: | 103 minutes |
| Studio: | Lionsgate |
| Genre: | Horror |
| FSK: | |
31 Synopsis
From the visionary mind of Rob Zombie comes the horrific story of five carnival workers who are kidnapped the night before Halloween and held hostage in a large compound. At the mercy of their captors, they are forced to play a twisted game of life or death called 31. For the next 12 hours they must fight for their lives against an endless parade of homicidal maniacs.

Purchase DVD/Blu-ray/4K UHD physical copy of 31 today at Amazon.com
Stream 31 in Digital HD/4K from the AppleTV store.
31 images are © Lionsgate. All Rights Reserved.
31 Blu-ray Review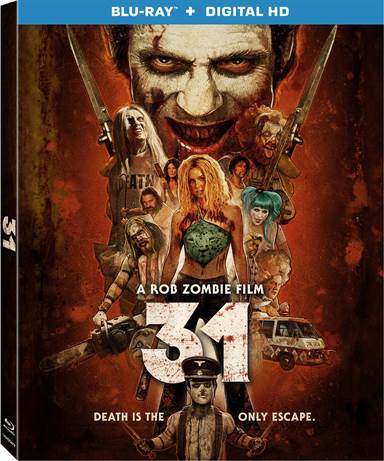 Rob Zombie is synonymous with all things horror. Between his films, music, name and even his personal style, there doesn't seem to be a side of him that doesn't delve into the macabre. Zombie has released eight films, all horror, and the latest of these releases is
31
.
This movie was a bit of a change for Zombie as it actually used crowdfunding to get made and gave out rewards, such as guest appearances in the film to the film's backers.
As with most slasher pictures, the story of 31 is pretty simple. 31 takes place on October 31 during 1974 and focuses on a gang of carnival workers who get abducted and taken to a strange place where they are forced to defend their lives in a series of "games".
These "games" force the "players" to go through a set of rooms where they come up against five "Heads" - Sick-Head, Psycho-Head, Schizo-Head, Death-Head, and Sex-Head. Even if they manage to escape these rooms, they still aren't safe as more horror lies ahead.
If the description and simplistic plot might remind you a little of The Purge series, you would not be wrong in your thinking. 31 pits the haves and have-not's of society against each other, as the have-not's die for the sport and pleasure of the aristocrats in society. Of course, while The Purge series is created for mainstream audiences, 31 will only cater to the most die-hard horror fans that crave the slasher films of the 1970s.
Rob Zombie enjoys to work with actors he has used in the past and 31 is no exception. Along with the ever-present Sheri Moon Zombie (The Devil's Reject), 31 also features Jeff Daniel Phillips (The Lords of Salem), Meg Foster (The Lords of Salem), and veteran film actor Malcolm McDowell (The Book of Eli). Zombie's directing is pretty much on par with his former films so there are no real surprises there. He knows how he likes to shoot and does not deviate from his style, at all, during this film.
Presented in AVC 1080p with a 2.40:1 aspect ratio, 31 looks great on Blu-ray. The video presentation is crisp and clear, yet still maintains the tone and look of the 1970s films it is trying to emulate. The DTS-HD Master Audio 5.1 provides clear dialog, but lacks punch in the rear channels.
While 31 has an extremely short run-time, the extras on the disc more than make up for it with over a two-hour making-of documentary entitled In Hell Everyone Loves Popcorn: The Making of 31. This feature is really lengthy, coming in at 132 minutes but provides a lot of interesting insight. This six-part feature includes behind the scenes footage of pre-production, special effects, and cast and crew interviews.
As with most Rob Zombie films, this film will find its way into homes of extreme horror enthusiasts and, as with his other work, is sure to become a cult classic. Unfortunately, mainstream audiences who don't like too much blood will most likely be staying away from this title.

Grade: C+
For more reviews please visit our film/television review section.
SPONSORED LINKS