1408 (2007)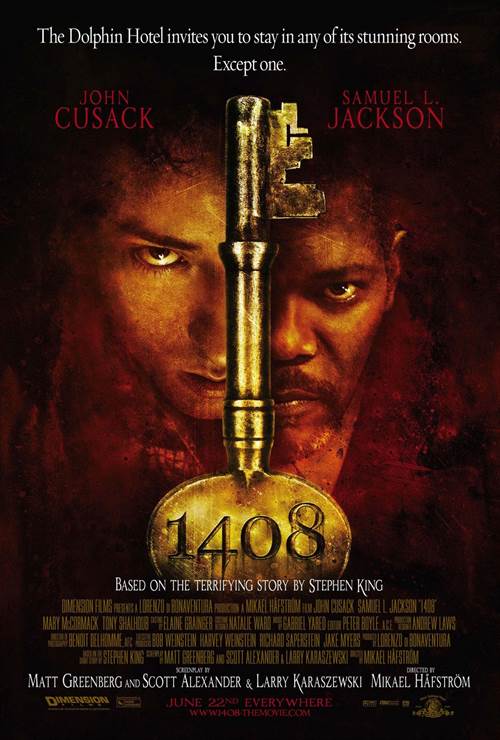 | | |
| --- | --- |
| Director: | |
| Writers: | |
| Cast: | |
| Released: | Thursday, September 13, 2007 |
| Length: | 94 minutes |
| Studio: | Dimension FIlms |
| Genre: | Horror |
| FSK: | 16 |
1408 Synopsis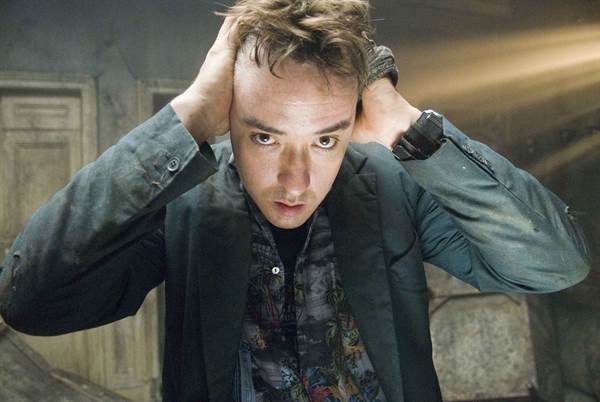 Renowned horror novelist Mike Enslin (John Cusack) only believes what he can see with his own two eyes. After a string of bestsellers discrediting paranormal events in the most infamous haunted houses and graveyards around the world, he scoffs at the concept of an afterlife. He checks into suite 1408 of the notorious Dolphin Hotel for his latest project, Ten Nights in Haunted Hotel Rooms. Defying the warnings of the hotel manager (Jackson), the author is the first person in years to stay in the reputedly haunted room. Another bestseller may be imminent, but like all Stephen King heroes, Enslin must go from skeptic to true believer - and ultimately survive the night.

Purchase DVD/Blu-ray/4K UHD physical copy of 1408 today at Amazon.com
Stream 1408 in Digital HD/4K from the AppleTV store.
Listen to the 1408 soundtrack on Apple Music.
1408 images are © Dimension FIlms. All Rights Reserved.
1408 Theatrical Review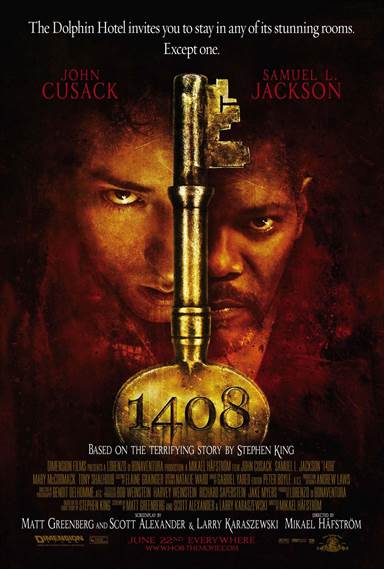 I was introduced to 1408 in the audio-book collection Blood and Smoke, three stories by Stephen King that vaguely, barely, relate to death and smoking ... as in ... they have a cigarette in them somewhere. Interestingly, it began life as a writing exercise in King's non-fiction On Writing. He did a few pages to show how he'd revise them and then got fascinated with the tale. When I heard it, I was parked in front of my apartment, riveted by the sounds coming out of my speakers. I can't believe I'm hearing this, I thought.

"This is nine! Nine! This is ten! Ten! We have killed your friends! Every friend is now dead! This is six! Six!"

So, yeah: the short story was scary. What about the movie? Well? What about the movie?

The story is the classic haunted-hotel ghost story. The main character spends the night in spooky places and writes about them in his books. He's never had a paranormal experience--so when he gets to the Dolphin Hotel (stolen from Haruki Murakami's Dance Dance Dance and transported from Tokyo to New York) he finds that unlike most haunted places, rather than looking to cash in on their ghost story, the management wants to keep it quiet.

In the story, the management is a white dumpy guy. In the movie it's Sam Jackson who uses their one PG-13 swear word to say "It's an evil fuckin' room." GO SAM!!

It starts getting scary not when you find out about the suicides but when you learn that even though it has been unoccupied for years now, it is turned and cleaned once a month--in teams ... with the door always open ... treated as though it was 'filled with poison gas.' The maids who go in there suffer health problems: serious ones if they work it too often. Electronics malfunction.

The manager begs the main character not to spend the night: it isn't a ghost, the hotel manager says ... it's something else.

In the movie it's something else too. The basic tight simplicity of 1408 gets watered down considerably. I mean that literally: there's a scene in the beginning of the movie where the main character is dumped off a surf-board and hits his head or something. Later in the movie, the director takes us for incredibly naive chumps with a callback to this scene ... needless to say: it wasn't in the book.

Also not-in-the-book are his wife and deceased daughter who thankfully do not clutter the beginning of the movie but add some clutter (rather than depth) along the way.

However: many sins are forgiven by casting John Cusack who radiates charisma and draws me to the screen like a moth to an electric Moth-B-Que. Yes, however the movie-makers have folded, spindled, and mutilated the story, John is likable enough to pull me through it. And really, the somewhat surreal touches that the movie uses in lieu of the more disturbing losing-your-mind element of the short story are fairly interesting to watch.

It isn't a home run--but it's sure no Sleepwalker either.
-- Marco Chacon
For more reviews please visit our film/television review section.
SPONSORED LINKS