The Hitman's Wife's Bodyguard (2021)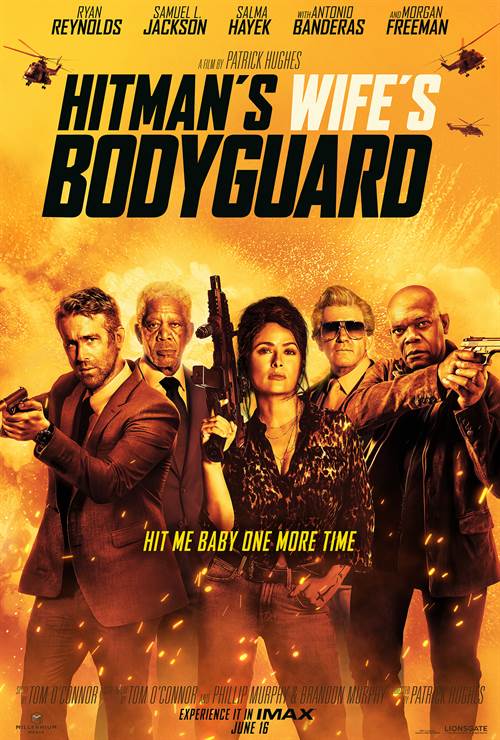 Share this:
| | |
| --- | --- |
| Director: | |
| Writers: | |
| Cast: | |
| Released: | Thursday, August 19, 2021 |
| Length: | 116 minutes |
| Studio: | Lionsgate |
| Genre: | Action/Adventure, Comedy |
| FSK: | |
Synopsis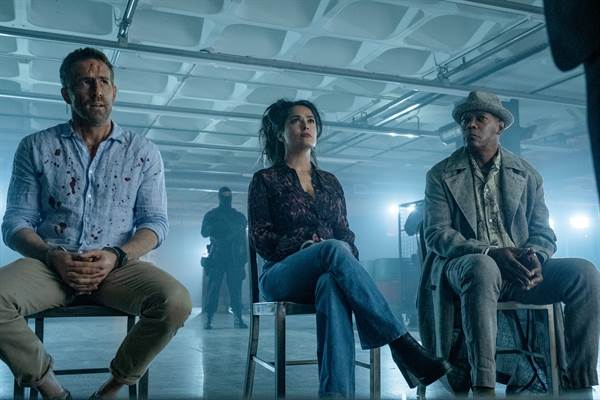 The world's most lethal odd couple – bodyguard Michael Bryce (Ryan Reynolds) and hitman Darius Kincaid (Samuel L. Jackson) – are back on another life-threatening mission. Still unlicensed and under scrutiny, Bryce is forced into action by Darius's even more volatile wife, the infamous international con artist Sonia Kincaid (Salma Hayek). As Bryce is driven over the edge by his two most dangerous protectees, the trio get in over their heads in a global plot and soon find that they are all that stand between Europe and a vengeful and powerful madman (Antonio Banderas). Joining in the fun and deadly mayhem is Morgan Freeman as… well, you'll have to see.
Purchase DVD/Blu-ray/4K UHD physical copy of The Hitman's Wife's Bodyguard today at Amazon.com
Download The Hitman's Wife's Bodyguard in Digital HD/4K from the iTunes store.
Listen to the The Hitman's Wife's Bodyguard soundtrack on Apple Music.
The Hitman's Wife's Bodyguard images are © Lionsgate. All Rights Reserved.
Watch The Hitman's Wife's Bodyguard EARLY & FREE Before It's Rel...
6/3/2021 12:55 PM EST
Abbott and Costello, Laurel and Hardy, Cheech and Chong…all incredible comedy teams.  In 2017 another duo was added to this list - Jackson, and Reynolds.  The Hitman's Bodyguard was a hilarious story brought to life by these two comedic geniuses who had great timing and chemistry together.  Next week the sequel, THE HITMAN'S WIFE'S BODYGUARD is coming out in theaters, and Lionsgate, in conjunction...
More>>
The Hitman's Wife's Bodyguard Theatrical Review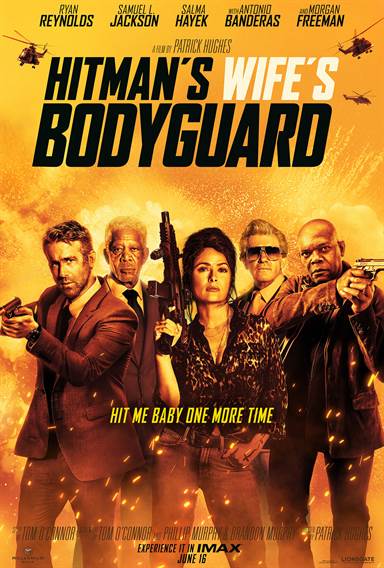 When one thinks of the greatest comedic trios, the obvious first group that pops into most people's minds is The Three Stooges. Larry, Moe, and Curly had great timing and chemistry and made millions of people laugh for years. Next might be Murray, Ramos, and Aykroyd in the blockbuster film, Ghostbusters. More recently, Cooper, Helms, and Galifianakis in the Hangover franchise, etc., etc., etc. Then in 2017 Ryan Reynolds (Deadpool), Samuel L. Jackson (Pulp Fiction), and Salma Hayek (Frida​​​​​​​) starred in The Hitman's Bodyguard. The hilarious movie grossed six times its thirty-million-dollar budget, leading to this month's sequel, The Hitman's Wife's Bodyguard, and the birth of a new cinematic, comedic trio.
Michael Bryce (Reynolds) is having an identity crisis. His most high-profile client was assassinated on Bryce's watch and then he saved the life of Darius Kincaid, one of the most famous hitmen. Now he has lost his bodyguarding license and has a nightly, recurring nightmare. His therapist tells him to take a sabbatical – no bodyguarding, no guns, etc – to try and reconnect with himself. However, while following her advice relaxing on a tropical Island, he is scooped up by Kincaid's wife, Sonia (Hayek), who tells him she needs his help because Darius has been kidnapped.
Once they get Darius back from the Mafia, they are nabbed by Interpol agent Bobby O'Neill (Frank Grillo; Boss Level), who needs them to help him find notorious terrorist Aristotle Papadopoulos (Antonio Banderas; Desperado) before he can carry out his plan to cripple all of Europe by knocking out the power grid. As the trio works with Bobby (without his supervisor's knowledge) they get into plenty of trouble while Bryce ends up, much to his dismay, playing marriage counselor/therapist to Darius and Sonia. Bryce also needs to go and face his stepfather, Michael Bryce Sr. (Morgan Freeman; The Shawshank Redemption), who puts Bryce down because he lost his license.
First of all, let me start by saying Reynolds, Jackson, and Hayek have incredible chemistry together and can probably make almost any scene laugh out loud funny. Second, whoever decided to cast Freeman as Bryce's stepdad is a genius. It was one of the twists we didn't know we needed but are so glad the studio went with it. Third, whoever thought it was a good idea to cast a Spaniard as a Greek terrorist is an idiot. I have no doubts a more suitable option (albeit a less famous one) could have been found. Lastly, the supporting cast is pretty good for the most part and I was shocked to see Gary Oldman (Darkest Hour) listed in the credits because I did not realize he was in the movie.
Director Patrick Hughes (The Expendables 3) once again helms this sequel and, while he tries to recapture the magic of the first film, there just isn't enough plot to sustain the sophomore effort. The action scenes are too long and boring and the plot simply can't live up to The Hitman's Bodyguard. If it wasn't for the three leads, The Hitman's Wife's Bodyguard would have been far worse than it ended up being.
Reynolds, Jackson, and Hayek are comedy gold, even though I wish they could do it without so much cursing. Sonia is insane and Hayek plays her just as she should be played – a hotheaded, unrealistic, Latina who can turn on you with the flip of a coin. Her acting ability is incredible as no one would believe this is the same person who was nominated for an Oscar for Frida. Jackson and Reynolds play well off each other as Kincaid is laid back and Bryce is very high-strung. Together, they are unstoppable, except the plot doesn't live up to their potential and leaves their chemistry unrealized fully.
Grade C-
Read More The Hitman's Wife's Bodyguard Reviews
For more reviews please visit our film/television review section.
The world's most lethal odd couple – bodyguard Michael Bryce (Ryan Reynolds) and hitman Darius Kinca...

Only In Theaters June 16, 2021! #HitmansWife The world's most lethal odd couple – bodyguard Mic...

For today's "Movie Reviews With Austin Putnam" Austin discusses the new film, The Hitm...
SPONSORED LINKS