The Hitman's Wife's Bodyguard (2021)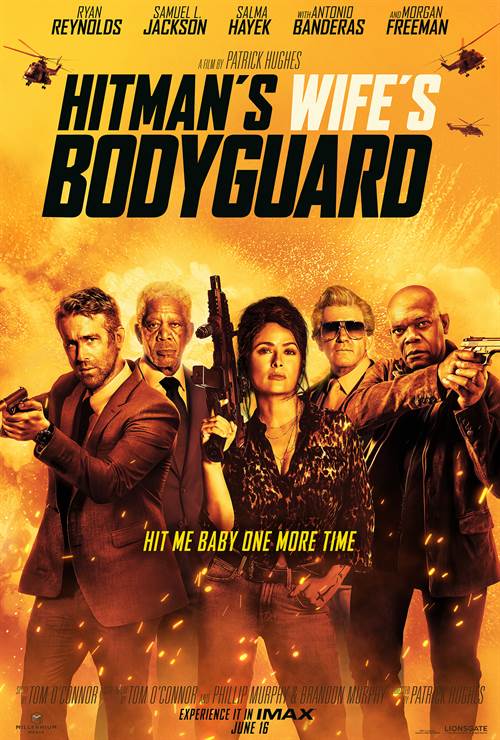 Share this:
| | |
| --- | --- |
| Director: | |
| Writers: | |
| Cast: | |
| Released: | Thursday, August 19, 2021 |
| Length: | 116 minutes |
| Studio: | Lionsgate |
| Genre: | Action/Adventure, Comedy |
| FSK: | |
Synopsis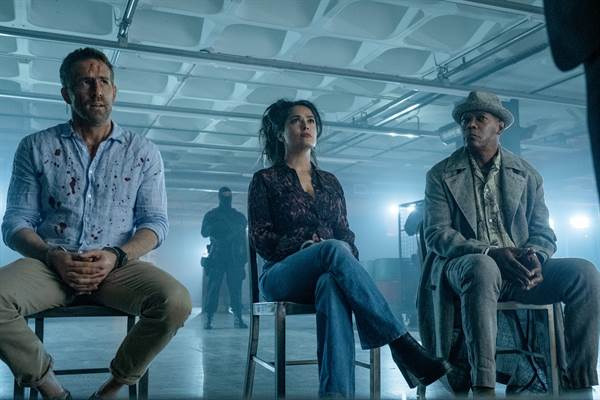 The world's most lethal odd couple – bodyguard Michael Bryce (Ryan Reynolds) and hitman Darius Kincaid (Samuel L. Jackson) – are back on another life-threatening mission. Still unlicensed and under scrutiny, Bryce is forced into action by Darius's even more volatile wife, the infamous international con artist Sonia Kincaid (Salma Hayek). As Bryce is driven over the edge by his two most dangerous protectees, the trio get in over their heads in a global plot and soon find that they are all that stand between Europe and a vengeful and powerful madman (Antonio Banderas). Joining in the fun and deadly mayhem is Morgan Freeman as… well, you'll have to see.

Purchase DVD/Blu-ray/4K UHD physical copy of The Hitman's Wife's Bodyguard today at Amazon.com
Download The Hitman's Wife's Bodyguard in Digital HD/4K from the iTunes store.
Listen to the The Hitman's Wife's Bodyguard soundtrack on Apple Music.
The Hitman's Wife's Bodyguard images are © Lionsgate. All Rights Reserved.
Watch The Hitman's Wife's Bodyguard EARLY & FREE Before It's Rel...
6/3/2021 12:55 PM EST
Abbott and Costello, Laurel and Hardy, Cheech and Chong…all incredible comedy teams.  In 2017 another duo was added to this list - Jackson, and Reynolds.  The Hitman's Bodyguard was a hilarious story brought to life by these two comedic geniuses who had great timing and chemistry together.  Next week the sequel, THE HITMAN'S WIFE'S BODYGUARD is coming out in theaters, and Lionsgate, in conjunction...
More>>
The Hitman's Wife's Bodyguard 4K Ultra HD Review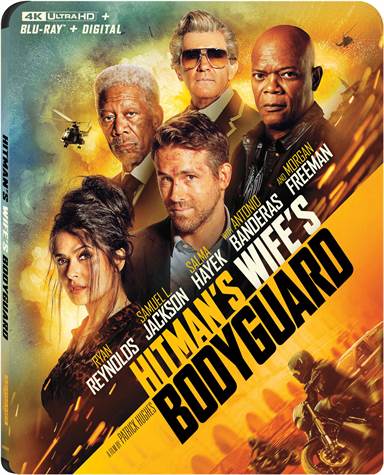 In 2017, Ryan Reynolds (Deadpool) came into our lives as a high-profile bodyguard, Michael Bryce, in the movie "The Hitman's Bodyguard". He has a fall from grace after one of his clients gets assassinated on Michael's watch, causing a downward spiral for Bryce. He is forced to take on less than desirable clients to make a living and through a series of fateful events, winds up protecting a professional hitman Darius Kincaid (Samuel L. Jackson; Pulp Fiction). The two form an uneasy alliance, which also includes Kincaid's wife, Sonia (Salma Hayek; Frida). In the end, the trio parts ways, and that brings us to this year's follow-up, "The Hitman's Wife's Bodyguard".
After deciding to leave the world of personal protection, Bryce takes what is supposed to be a relaxing vacation. After traveling to a tropical location and settling into beach life, things take a turn for the worse, and Sonia shows up with guns blazing. She needs Bryce's help in recovering her husband from kidnappers. Once the job is done, and Darius is rescued, the trio crosses paths with Interpol Agent Bobby O'Neill (Frank Grillo; Captain America: The Winter Soldier). He convinces them to help him capture the notorious terrorist Aristotle Papadopoulos (Antonio Banderas; The Mask of Zorro), who is planning to destroy the European power grid in retaliation for sanctions being imposed on Greece.
Along the way, Bryce enlists the help of his hero and stepfather, Michael Bryce Sr. (Morgan Freeman; The Shawshank Redemption), with who he has a complicated relationship, to say the least. The group must work together to fight against enemies they know are after them, and trust individuals who it turns out are double-crossing them.
Just as in the first film, the dynamic of Reynolds', Hayek's, and Jackson's characters are all so over the top yet endearing. The sequel as a whole is more outrageous than the original but is still a fun and funny, fairly fast-paced ride. Freeman was an unexpected choice to play Bryce's stepdad but he played the part well. Antonio Banderas is usually good in anything, but playing a Greek man was a stretch in this film, and really not believable. Hayek's character stole the show for this film. In every scene, she is in she is over the top but in a great way.
Coming out on 4K UHD The Hitman's Wife's Bodyguard looks simply amazing with its 2160p transfer in 2.38:1 ratio. The colors pop off the screen, details are very sharp and clear, and the HDR and Dolby Vision truly bring out the big screen experience. While some of the special effects look blurry or less sharp because of the way they were finished, they still do not detract from the film. The Dolby Atmos soundtrack totally immerses any viewer inside the film. Sounds do not seem to just appear to come from the front speakers but all around you.
With a lot of attention paid to the 4K transfer of the film, the special features were lacking just a bit. They included — Ryan, Sam, Salma: One F'd Up Family, Gone Soft: The New Michael Bryce, Hitman's Wife's Bodyguard: #stuntlife, On the Set of Hitman's Wife's Bodyguard, a gag reel, and the trailers for the film.
Overall, while the performances were strong, "The Hitman's Wife's Bodyguard" just didn't live up to the original. Some of it was just too over the top and while that can often work in favor of a film like this, it just fell short a bit. However, it's still an enjoyable film that is worth watching for your movie night.
Grade: C+
Read More The Hitman's Wife's Bodyguard Reviews
For more reviews please visit our film/television review section.
The world's most lethal odd couple – bodyguard Michael Bryce (Ryan Reynolds) and hitman Darius Kinca...

Only In Theaters June 16, 2021! #HitmansWife The world's most lethal odd couple – bodyguard Mic...

For today's "Movie Reviews With Austin Putnam" Austin discusses the new film, The Hitm...
SPONSORED LINKS