Scream (2022)
| | |
| --- | --- |
| Director: | |
| Writers: | |
| Cast: | |
| Released: | Thursday, January 13, 2022 |
| Length: | 114 minutes |
| Studio: | Paramount Pictures |
| Genre: | Horror |
| FSK: | 16 |
Synopsis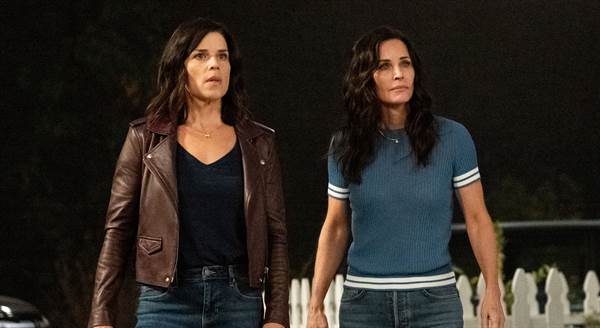 Twenty-five years after a streak of brutal murders shocked the quiet town of Woodsboro, a new killer has donned the Ghostface mask and begins targeting a group of teenagers to resurrect secrets from the town's deadly past. Neve Campbell ("Sidney Prescott"), Courteney Cox ("Gale Weathers") and David Arquette ("Dewey Riley") return to their iconic roles in Scream alongside Melissa Barrera, Kyle Gallner, Mason Gooding, Mikey Madison, Dylan Minnette, Jenna Ortega, Jack Quaid, Marley Shelton, Jasmin Savoy Brown, and Sonia Ammar.

Purchase DVD/Blu-ray/4K UHD physical copy of Scream today at Amazon.com
Download Scream in Digital HD/4K from the iTunes store.
Listen to the Scream soundtrack on Apple Music.
Scream images are © Paramount Pictures. All Rights Reserved.
Scream Overtakes Spider-Man for Number One at Box Office
1/17/2022 2:48 PM EST
"Scream" has taken first place on the box office list after a $34 million opening weekend. The new film boots "Spider-Man: No Way Home" down to second. The opening weekend earnings mean that they will clear a good profit since the film's budget was only $25 million.The latest film in the franchise, "Scream" brings back veteran stars Neve Campbell, Courteney Cox, and David Arquette to once again te...
More>>
Commemorative Scream Soundtrack Box Set to be Released
1/7/2022 4:42 PM EST
"Scream", the long-awaited franchise film will be released in theatres on January 14, and to commemorate the event, The deluxe Scream: Original Motion Picture Soundtracks Box Set will be released. The set features Marco Beltrami's scores from the first four films, plus a trove of previously unreleased material-all packaged in a fold-out Ghostface mask.As the latest installment of Scream lands in t...
More>>
Sidney Prescott Is Back For Scream 5
9/10/2020 3:28 PM EST
Ever since it was announced that Paramount-Spyglass was relaunching the Scream franchise, there has been speculation as to which characters would/would not be signing on to the project.  David Arquette announced he would once again reprise his role as Dewey Riley in May followed by Courtney Cox, once again as reporter Gale Weathers in late July. This led fans to wonder if Neve Campbell would also ...
More>>
Courtney Cox to Return for Fifth Scream Film
7/31/2020 4:24 PM EST
Courtney Cox will be reprising her role as Gale Weathers for the next "Scream" film. She will be joining her ex-husband and former co-star David Arquette, who will be reprising his role as Dewey Riley.Radio Silence told Deadline, "We can't imagine Scream without the iconic Gale Weathers and are so incredibly thrilled and humbled to have the opportunity to work with Courteney. We're absolute mega f...
More>>
MTV Moving Along With Scream Series Production
8/6/2014 11:21 AM EST
MTV is moving along with its production for their upcoming "Scream" series. The network has hired Jamie Travis to direct the pilot, and have a cast all lined up - Willa Fitzgerald ("Alpha House," "Royal Pains"), Amy Forsyth ("Torment," "Reign"), John Karna ("Premature," "The Neighbors"), Carlson Young ("Key and Peele," "The Kroll Show") and Amadeus Serafini.Susanne Daniels, MTV's president of prog...
More>>
Harvey Weinstein Speaks on Scream Franchise
10/4/2013 3:03 PM EST
Speaking at the Zurich Film Festival, Harvey Weinstein has told Indiewire what he would expect if another "Scream" movie were to go ahead.Both Harvey and his brother Bob have in the past expressed an interest in a fifth movie for the franchise. "Everyone lived in Scream 4. I'm begging him (Bob) to do the movie and just end it. We've milked that cow." Weinstein also said that the forthcoming Scream...
More>>
Craven: Scream 5 A Possibility
5/31/2011 2:59 PM EST
Wes Craven spoke recently about the "Scream" franchise and said that there are no immediate plans yet to make "Scream 5". The master of horror stated he would like to take a break."I'm taking the summer off. I directed and produced, and my wife [Iya Labunka] produced, both Scream 4 and the previous film, My Soul to Take, and they were both very difficult films. So we just decided, 'You know what? ...
More>>
"Scream 4" Granted "R" Rating
3/3/2011 4:27 PM EST
The MPAA has awarded the upcoming film, "Scream 4", its "R" rating. Some were worried that the film would be a bit watered down in order to appeal to the "PG-13" audience.The film was given the "R" rating for "strong bloody violence, language and some teen drinking". The three previous films were all rated "R"....
More>>
Scream 4 Casting Update
5/25/2010 3:50 PM EST
Lake Bell of "Boston Legal" fame is currently in negotiations to star in the upcoming film, "Scream 4". Along with Bell, Ashley Greene, Hayden Panettiere and Rory Culkin have all been offered roles in the film as well. The film will also star Neve Campbell, David Arquette and Courteney Cox. Bell will play a police who is friendly with Neve Campbell and has known her since high school. Greene will ...
More>>
Neve Campbell Talks Scream 4
11/30/2009 9:20 PM EST
Recently, Black Book Magazine caught up with Neve Campbell.  she discussed the upcoming fourth "Scream" project. Campbell says that she is "pretty sure at this stage that Wes [Craven] is back on board to direct" a fourth "Scream". She also went on to discuss her former co-stars for the film. "I haven't spoken to them in a while. I'm sure it took a while to convince them to take part [in the pictu...
More>>
Scream Theatrical Review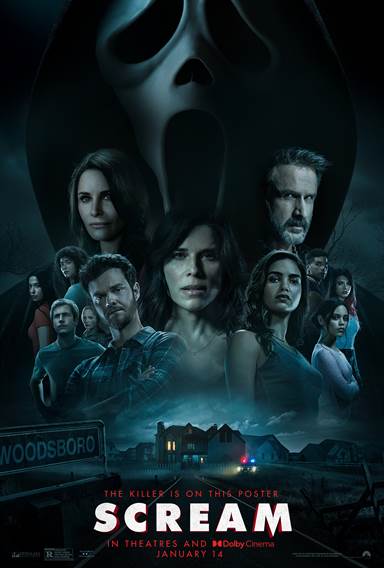 If one were to look back to the early to mid-1990s, they would find Horror, as a film genre, was all but dead (no pun intended). There were maybe a dozen movies each year and most had unrecognizable titles. Then in 1996, Horror Master Wes Craven (A Nightmare on Elm Street) directed a movie simply called Scream written by an up-and-coming writer named Kevin Williamson (The Faculty). The film starred Neve Campbell (The Craft), Courtney Cox (Friends), and David Arquette (Never Been Kissed), as well as Drew Barrymore (E.T.), Skeet Ulrich (Riverdale), and Rose McGowan (Charmed). The film combined jump scares with bloody murders and some humor thrown in. It also revitalized horror films and, over the next fifteen years, produced three sequels. Now, seven years after Craven's passing, Scream (also known as Scream 5) is opening in theaters.
As we have come to expect from the Scream franchise, this one once again opens with a teenage girl, Tara (Jenna Ortega; Iron Man 3), who is home alone and picks up the phone to begin a conversation with a stranger. As the stranger continues to talk, the tone of his questions become more sinister. This phone call is only the beginning. As in the past, several people end up dead in Woodsboro and everyone becomes a suspect.
The Scream franchise has always been known for its writing which is one aspect that sets it apart from many of the other horror films being made these days. The dialogue is sharp and witty, and the story usually keeps the viewer guessing which one of the characters could be the killer, as well as their motivation for killing. Also, since the Scream films typically have a bigger budget than their contemporaries, the production value tends to be stronger overall, which makes for a better-quality movie.
Joining the franchise veterans, Campbell, Cox, and Arquette, are a group of talented young actors. Melissa Barrera (In the Heights) plays the main character, Sam, whose deep, dark secret puts her younger sister, Tara, in danger. Barrera is in touch with her emotions as she can be strong and confident at times while vulnerable and fragile at others. Jack Quaid (The Boys) portrays Sam's boyfriend, Ritchie, and it is obvious the apple didn't fall far from the tree as he is a strong actor whose parents happen to be Meg Ryan and Dennis Quaid. Jasmin Savoy Brown (The Leftovers) plays one of Tara's friends, Mindy Meeks-Martin, and she is a standout amongst this group of up-and-coming actors.
Typically, by the time a film franchise gets to their fourth sequel the plot, cast, directing, and writing tend to be inferior to the original movie but that isn't the case with Scream. The plot is what one would expect from this franchise, with twists and turns and jokes aplenty. The only part I didn't like was the motive for the serial killings. I rolled my eyes at least once when it was revealed why the murders were taking place.
The latest version of Scream does almost everything right. From paying homage to Craven to peppering the movie with easter eggs, the film pays "fan service" while establishing a new group of characters to continue the franchise.
Scream has always been a cut above the cookie-cutter movies and even as the fifth movie is released, this fact has not changed. I will say this film has more gunplay than previous editions and more blood and violence than the others but it still feels very much like a part of the series. If only the motive had been more thoughtful and interesting, then Scream would have been almost perfect instead of just very good.
Grade B+
-- Allison Rose
For more reviews please visit our film/television review section.
Twenty-five years after a streak of brutal murders shocked the quiet town of Woodsboro, a new killer...

On the 25th anniversary of the original SCREAM, we honor the Master of Horror, Wes Craven....

Ghostface is back and it's scary as ever! Discover what brings the legacy and new cast together in t...
Twenty-five years after a streak of brutal murders shocked the quiet town of Woodsboro, a new killer...
"You know what, that Jason guy, he's got some solid ideas." -- Richie Kirsch
SPONSORED LINKS