The Tomorrow War Review
By
Allison Rose
,
Jul 01, 2021 12:01 PM EST
J.K. Simmons (Spider-Man) has some great dialogue as Dan's estranged father, and he delivers his lines expertly.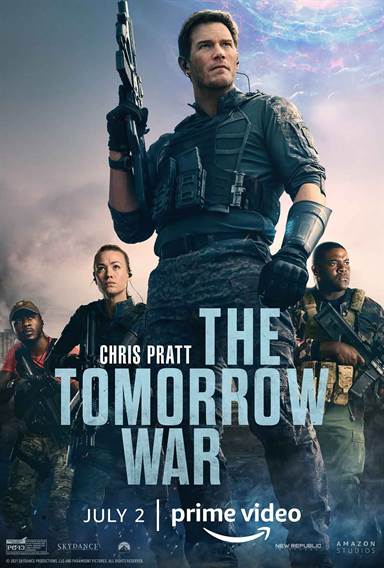 What if time travel were possible? Would you "take the leap"? What if you had no choice as a new kind of worldwide "draft" was instituted. Those who are chosen, and are physically able to, are sent thirty years in the future to help fight off aliens who have decimated the human race. If these pseudo-soldiers can survive one week, they return home but not the same as when they left. The Tomorrow War starring Chris Pratt (Guardians of the Galaxy) utilizes technology from the future to transport people into a war zone to fight an enemy, the likes of which they have never come across before. The movie will premiere on Amazon Prime on July 2, 2021.
Dan Forester (Pratt) is a former soldier turned science teacher. Living with his wife Emmy (Betty Gilpin; The Hunt) and their daughter, Muri (Ryan Kiera Armstrong; It: Chapter Two), Dan seems disillusioned with his life and career. Then one day, humans from 2051 appeared and explained they needed help to fight off the aliens. Suddenly, the world turned upside down and people were being drafted. Of the thirty percent of people who returned to 2021, more than half had lost limbs and suffered from post-traumatic stress disorder. Dan continued to teach science until he was called to serve.
Once in Miami in the year 2051, he and a group of "soldiers" were tasked with finding the research team and bringing them back. When that mission failed, they retrieved the samples the Colonel a.k.a. Romeo Command (Yvonne Strahovski; Chuck) needed, and retreated to base. Once there, Dan learned of the Colonel's plan, which was to create a toxin to kill the creatures and their queen when the attack begins, therefore preventing the war from ever happening.
Pratt is decent in the film, especially when he has to use his previous training as a soldier to "command" the troops. He was less convincing when he was the downtrodden science teacher. Strahovski is strong as well but anyone who remembers her in Chuck will recognize Sarah Walker in her character as the Colonel. J.K. Simmons (Spider-Man) has some great dialogue as Dan's estranged father, and he delivers his lines expertly. The remaining cast is pretty good including Sam Richardson (VEEP), Edwin Hodge (The Purge: Election Year), Jasmine Mathews (Heathers) and Mary Lynn Rajskub (24).
Director Chris McKay is known for working on animated features such as The Lego Batman Movie but manages to keep the pace of the film moving after a somewhat slower start. His visuals offer a graphic representation of some ugly-looking aliens as well as some horrific killing shots (both human and alien). While his direction is good and the concept is interesting, the script and effects are less than stellar. The few plot twists embedded in the story are not terribly shocking but effective, yet the aliens look somewhat fake and some of the backgrounds are obviously green screen, which distracts the viewer from the action taking place.
Originally scheduled for a theatrical release at the end of 2020 by Paramount Pictures, The Tomorrow War was delayed due to COVID. Paramount then sold the movie to Amazon Studios who will release it on its Amazon Prime Video streaming service for the July 4th holiday weekend.
While I thought the concept was cool, the execution left a little to be desired. This was not the best vehicle for Pratt to showcase his talents but Simmons and Strahovski turn in the two best performances in the film.
Paramount Pictures was smart to sell this property and then have Amazon Studios stream it. I doubt it would have done well at the box office.
Grade: C-